Veterans
A professional driving career is a great fit for many military men and women. Getting a CDL is the first step. Through select DRC network schools, veterans can use their Post 9/11 GI Bill® or other veteran's educational benefits to pay for part or all of CDL training. DRC's military enrollment specialist will help you with the entire application process. The military has given you the tools to succeed as well as the experience trucking employers are looking for.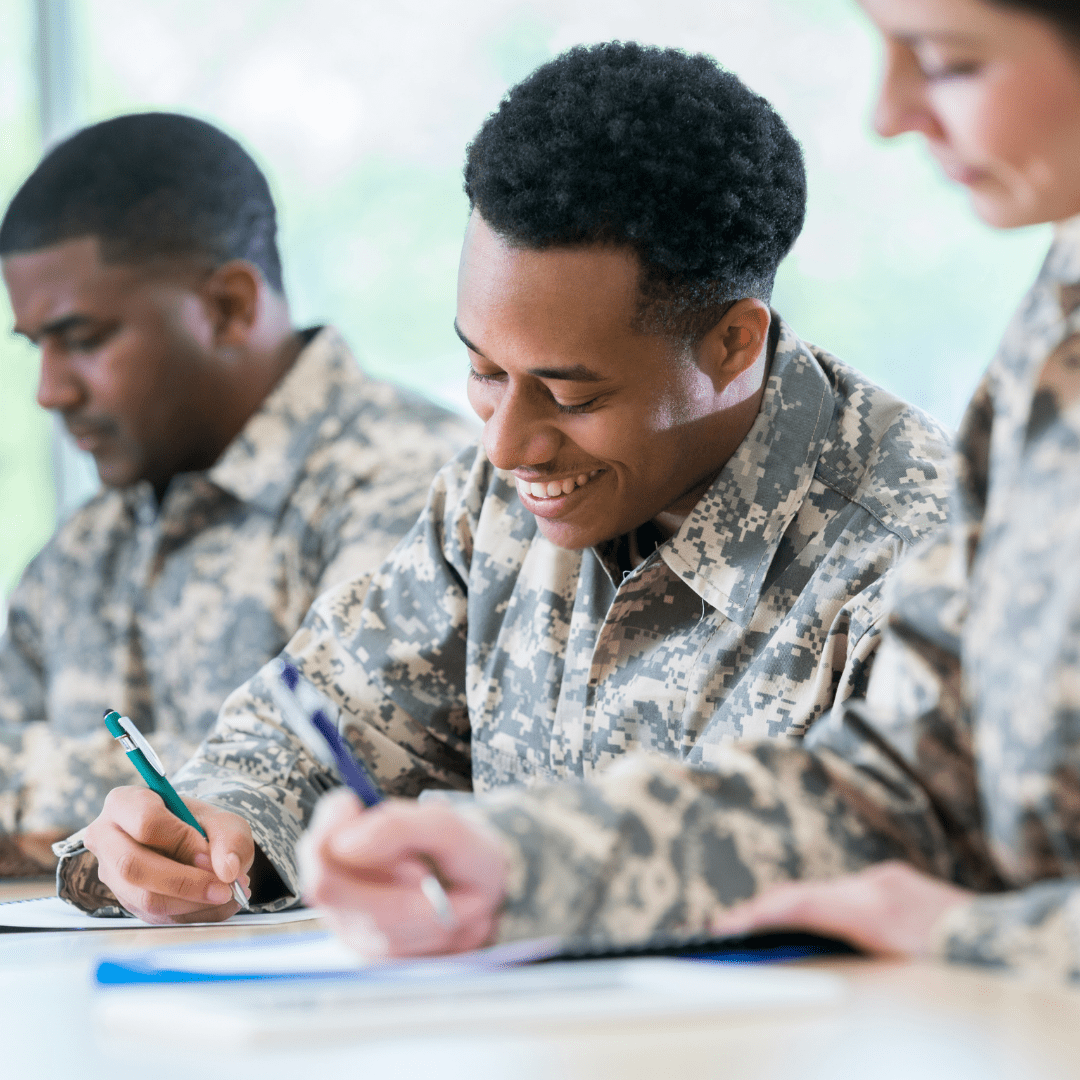 Use Your Military Benefits
We work with several veteran's programs including:
Chapter 33 – Post 9/11 GI Bill®
Chapter 30 – Montgomery GI Bill® (MGIB)
Chapter 35 – Survivors and Dependents Educational Assistance Program (DEA)
Chapter 1606 – Selected Reserve (MGIB-SR)
Chapter 31 – VR & E (veterans readiness and employment)
Frequenty Asked Questions
Is it possible to get Free CDL Training for Veterans?
There are several Veterans Affairs programs that can help pay for part of all of your CDL Training. This includes the Post-9/11 GI Bill®.  Any military veteran who served for at least 90 days after September 10, 2001, and received an honorable discharge, is eligible for education and training opportunities through the Post-9/11 GI Bill®.  You may also qualify for other VA programs that may also pay for CDL training. You can learn more about VA education benefits and eligibility at www.va.gov/education.
How do I apply for G.I. Bill® benefits?
Once you determined you are eligible to use your G.I. Bill® benefits, fill out a VA Form 22-1990, Application for VA Education Benefits.  You can apply online from the VA website.
Social security number
Bank account direct deposit information,
Education and military history
Basic information about the school or training facility you want to attend or are attending now
How long does the application process take?
It typically takes 30 days for an application to be reviewed and approved by the VA, but this timeline can vary dramatically depending on your situation.
What happens after my G.I Bill® benefits are approved?
Once your application is approved, you will receive a Certificate of Eligibility (COE), or award letter. Send the COE to the VA certifying official, such as the DRC VA enrollment specialist. They will then review your application and get you enrolled for an upcoming class.
Are there other programs I can benefit from as a veteran?
We proudly work with many trucking companies that offer veteran programs. Many are members of the Military Apprenticeship Program®. With this program, you may be eligible to earn a monthly educational benefit check along with your weekly salary from your new job. For some veterans, this could be as much as $1,400 additional each month.
Do DRC's truck driving schools accept the GI Bill®?
Yes, the DRC partners with schools that accept the GI Bill®.  Our Career Specialists can help find a school close to you to match your needs.
WHY DRC?
Our network schools have trained veterans for rewarding careers in transportation for more than 20 years! As a military veteran looking to get a CDL and start a civilian career as a truck driver, you want a school that meets your high standards. Training standards are important to trucking companies and are an important factor for veterans to consider.
Our Network Schools:
Accept the GI Bill®
FMCSA approved and listed on the Training Provider Registry
Hands-on training from experienced instructors
*GI Bill® is a registered trademark of the U.S. Department of Veterans Affairs (VA). More information about education benefits offered by VA is available at the official U.S. government web site at https://www.benefits.va.gov/gibill.
https://www.benefits.va.gov/GIBILL/Trademark_Terms_of_Use.asp
Featured Blogs
An increase in e-commerce and growth in the manufacturing sector has led to a thriving trucking industry. First year truck drivers can expect to earn between $69,000 and $85,000 per year. That makes a CDL an excellent investment in your future. Get to work in a lucrative career in as few as four weeks. When … Continued
Sometimes you need to try a few different careers before finding the one that suites you best. That was the case for Marine veteran Carlin Manendez who recently found a rewarding career as a truck driver. After five years of active duty and three years of guard service, Calvin decided he wanted a new challenge … Continued
Let's Talk.
Get started by filling out a form below and a career specialist will be in touch soon.