CDL Training for Class A License
Be on your way to a high-paying truck driving career with just 3-4 weeks of full-time Class A CDL training. We offer CDL training to individuals nationwide.
What to Expect from the ELDT CDL A Driver Training Program
All of the CDL truck driving schools in our network are registered by the FMCSA and approved to provide Entry Level Driver Training. At a DRC network school, you can expect to receive the training you need from an experienced instructor. Our comprehensive CDL course includes the following:
HANDS-ON
TRAINING
Classroom
Road and Skills
Training
Job Placement
Assistance
Receive a job opportunity before you graduate.
Various Equipment
Training
Auto and Manual transmission available
HAZMAT & TANKER ENDORSEMENT
TRAINING
HANDS-ON
TRAINING
Classroom
Road and Skills
Training
Job Placement
Assistance
Receive a job opportunity before you graduate.
Various Equipment
Training
Auto and Manual transmission available
HAZMAT & TANKER ENDORSEMENT
TRAINING
We give you all the tools needed for your career as a truck driver.
YOU'LL BE ROAD-READY
No commercial driving experience is needed to begin truck driving school. In just 3-4 weeks you'll be road-ready with these skills, certifications and endorsements:
Learner's Permit & Endorsement
Map Reading
Vehicle Systems Training
Range Training
City Driving
Department Of Transportation Rules & Reg
Log Books & Electronic Logs
Trip Planning
Rural Driving
Coupling & Uncoupling
ELDT Certified Hazmat Training
Tanker Endorsement Training
Students may register at any time. Call now for a schedule of upcoming classes.
CLASSROOM TRAINING

40 Hours
Our class A CDL training also includes classroom training that begins with orientation and studying for the Commercial Learner's Permit. Having a CLP is beneficial before enrolling, but not required. During this portion of CDL driving school we'll cover:
Orientation
CDL Permit Study
Job Procurement
Log Book, Hours of Service
Map Reading, Trip Planning
DOT Regulations
Hazard Perception
Night Operation
Extreme Driving Conditions
Pre-trip Inspection
Railroad Crossing Safety
Accident Reports
Highway Safety
Defensive Driving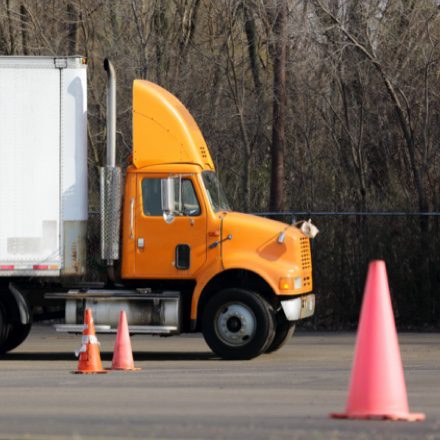 RANGE & ROAD SKILLS

120 Hours
Next, CDL school students will spend 120 hours on the range and road learning a variety of skills. Training is provided on automatic transmission trucks. (Manual training available upon request.) During this portion of truck driving school we'll cover:
Pre-trip Inspection
Couple/Uncouple
Straight Backing
45 Degree Backing
90 Degree Backing
Blindside Backing
Serpentine Backing
Parallel Parking
Double Clutching
Turns
Uphill/Downhill
Ramps
Lane Changes
Space Management
Hazard Perception
City & Rural Driving
CDL-A License Test
Upon completion of your training, you will be tested to obtain your state issued CDL-A license.
You will use our equipment (no need to find your own)
We will schedule your testing for you
CDL Requirements
No previous experience is required to get enroll in CDL training school. However, you do need to meet the following requirements to get a CDL. We will help you step-by-step through the process.
Be at least 18 years of age
Have a valid U.S. driver's license
Have your Commercial Learner's Permit (CDL permit) for at least 14 days before taking the CDL test. (We will help you get a CLP)
Complete an Entry Level Driver Training program
Pass all written and skills tests
Frequently Asked Questions
How long is CDL training?
Students attending CDL training full-time should complete training in 3-4 weeks. We understand that people learn at different speeds and will work with you to complete training.
How much does CDL school cost?
The cost of CDL training can vary by individual based on the financial assistance and grants you may qualify for. We also partner with several of the industry's top trucking companies, many of which will help you pay for CDL schooling. We have numerous options and find it best to discuss with each individual. You can read more about how to pay for CDL training here.
Do you need previous experience to get a CDL?
No previous truck driving experience is required for school. You do need a valid US drivers license and a willingness to learn. Our team of experienced CDL instructors will help guide you from your first day to the CDL exam.
Are there grants available for CDL training?
One way to pay for CDL training is through state or federal grants. Many of our DRC network schools offer these programs. Learn more about the grant opportunities that you may be eligible for here.
Featured Blogs
Professional truck drivers are in high-demand and as a result earn high pay. Being a truck driver is a strong stable career choice.
Wondering if investing in a CDL is worth it? First year truck drivers can earn between $69,000 and $85,000/year.* As you gain experience your pay will increase. *Pay information based on ATA Compensation Study.
Let's Talk
Have questions? Need details? Let us call you about our CDL program.